Chairman's greetings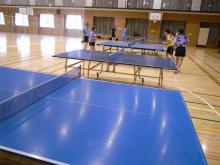 Komazawa Table Tennis Club is a community club established with the table tennis class (setagaya-ku sponsored) at Komazawa Elementary School in Setagaya-ku, Tokyo in 1982.started with about 20 people, but now developed into huge family of about 90 people.Age composition is from teens to 80s.。In the past, elderly people were the majority,Young people have also increased since making the site.In addition, Setagaya-ku resident are approximately 90% and the remaining is out of ward .we belong to Setagaya-ku Table Tennis Federation, and activity goes according to the annual event of the Federation.In addition, we actively participate in various matches and actively communicate with other clubs.
There are various club members such as those who did when they were young and resumed, and those who started from old age.this club is gathering of people who like table tennis, and the club's motto is "continue playing table tennis for a long time".and a lot of participants gather and are bustling on the practice day.
about practice date and club fee
| | |
| --- | --- |
| Admission fee | ¥1,000 |
| Club annual fee | ¥6,000(student is ¥3,000) |
| KSCC annual fee | ¥2,400(under 20 years old or over 65 years old is¥1,200) |
| Practice day | saturday 9:00-14:30 sunday 17:00-21:00 |
| Practice place | Setagaya-ku Komazawa Elementary School gymnasium |
practice visit is always OK.please bring your shoes and racket(If you have) with you.
we do not allow visitors except for the visit Because there are many members and table tennis tables are not enough.
Become a new member is limited to live in Setagaya-ku (or working or attending school).
We will support elementary and junior high school students as much as possible,but as it is not table tennis class, we do not give active instruction.Please note that point. (For the above reasons we will be able to join the 4th grade or higher elementary school) In the case of entering from the middle of the fiscal year,you will pay monthly split club fee.
Please contact below info@komazawa-ttc.com